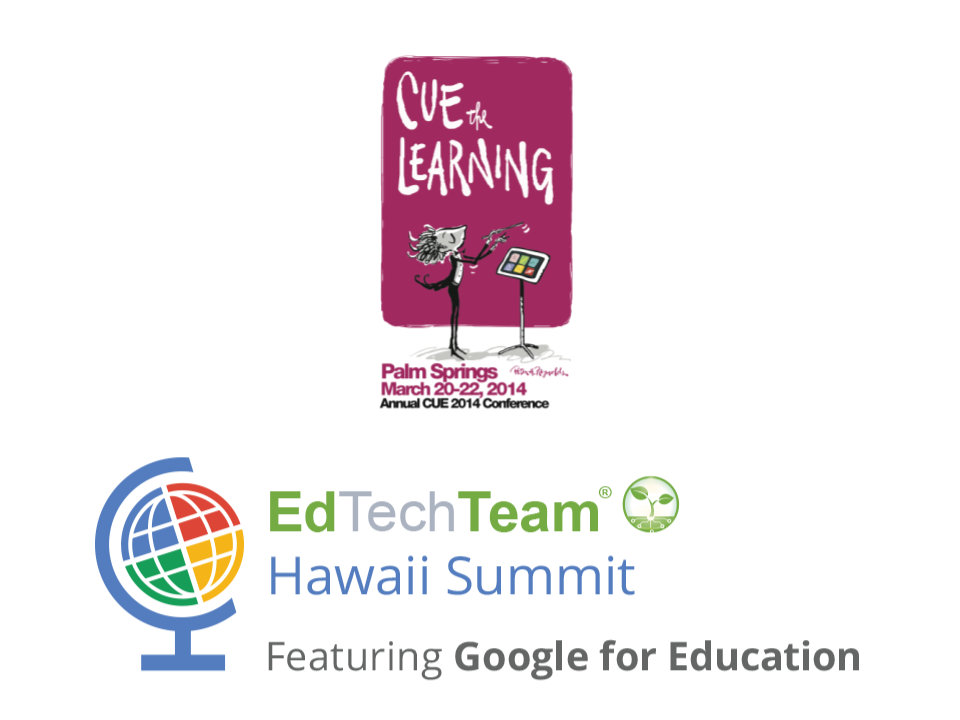 The Twitter was on fire this weekend as #CUE14 in Palm Springs, California and #GAFESummit in Honolulu, Hawaii were in full swing. One might wonder how that could provide me with much professional development, afterall, I'm in Midlothian, Texas...quite a distance from either of those conferences. But ah...The Twittersphere is a treasure trove of resources and I stumbled upon some really fabulous resources, tips, and tricks. In fact, it will take a couple of blog posts to cover some of the new things I learned and contemplated this past weekend So...I am going to begin with the tips that grabbed my attention most...two ways to use Google Drawing for creating dynamic graphics to use in Google Sites. Let me preface this by saying, these tips are prime examples of workarounds that will actually solve some issues I personally have with the limitations of Google Sites...AND, they led me to solve another issue I had with graphics and Google Sites. So needless to say, I am really excited about these!
Tip #1
I spotted the tweet below and thought...Wow; that's cool; I love that the graphic automatically updates if changed. Notice this does not include converting the drawing to JPGs.
Insert Google drawings into Google sites, not JPGs: when you update the drawing, the site will update too. Thanks, @Dowbiggin! #giewc
— Karl LS (@LS_Karl) March 23, 2014
Instructions to follow:
Just keep the drawing within Google Drive.

In Google Sites, go to the INSERT menu and insert the Google Drawing dire

ctly from Google Drive.

Before you insert, make sure you uncheck the border and the title. That gives this a cleaner look.

Check out the graphic below:
Another method:
Go to the

File Menu

in Google Drawing

Click on

Publish to the Web

Copy the URL for the graphic

Go to the

Insert Menu

in Google Sites, select

URL

and paste the graphic URL into the window.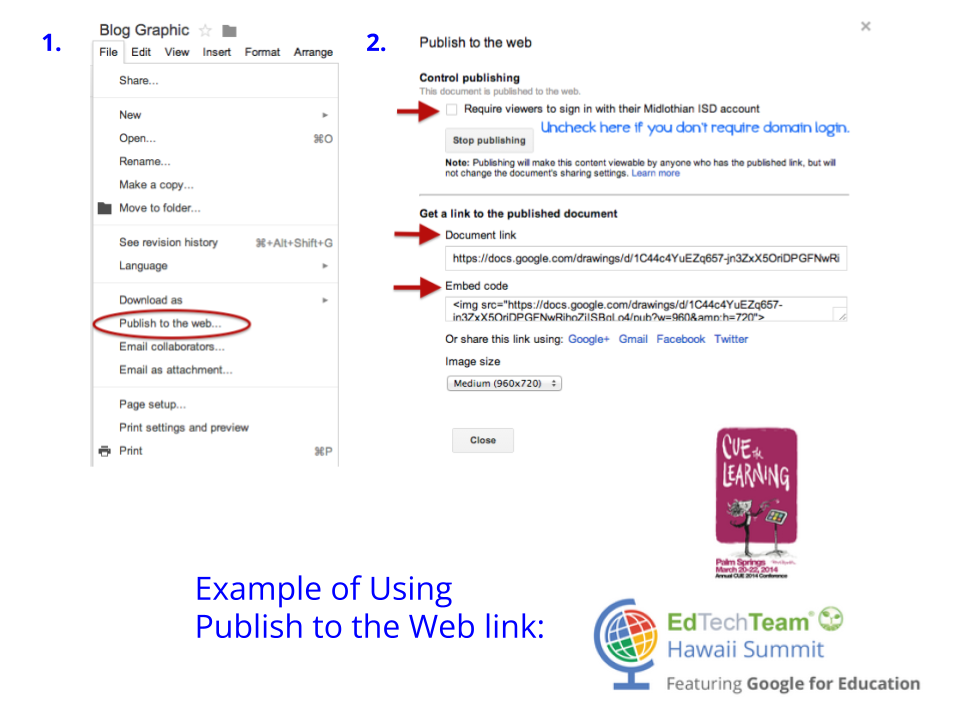 Implications for Implementation:
What caught my attention here was the idea of an automatic update if the drawing was changed. I do like the Publish to the Web look better; it has a cleaner look and the viewer can't access the graphic directly in Google Drive.
Another thing I found out: You have to use the Publish to the Web method to use Google Drawing graphics in Blogger, but it works there too!
Tip #2:

You can add hyperlinks to the graphics and they work! See the tweet below:
@avwitherspoon Another Google Drawing tip - hot spots w/no coding #giewc http://t.co/PUfjatWlbe #gafesummit
— Wanda Terral (@wterral) March 23, 2014
With this method, you can create a graphic for Google Sites with multiple hotspots. Can I have an OMG!? One thing I did find out was using the Publish to the Web doesn't preserve the hyperlinks so if you are using hotspots, you have to Insert directly from Google Drive.
Implications for Implementation:
Many times I've wanted to post graphics of apps with links directly to download, but in Google Drive, you really had to make them in a table, get everything aligned, manipulate code to make the table disappear...just a headache. Now all of this can be done ahead of time in Google Drawing and if you change or update any element, it automatically updates on the site! Can I have another OMG!?
Tip #3:

Now these two tips led me to uncover another needed workaround with regards to placement of multiple graphics to create a collage-type effect using different sized graphics...something that really couldn't be accomplished with Tables in Google Sites because you can't merge cells when needed. Just make your collage in Google Drawings and you've got this covered. I mean how cool is that!?
New Google Update!
Google has added the cropping tool for images in Google Drawing and Google Slides! This is a great addition as you begin to use Google Drawing for creating interactive graphics for your Google Site or for Blogger.
Stayed tuned for Part 2 of some cool things I learned and/or contemplated while lurking on these two fabulous conferences' Twitter feeds! And a big thank you to my PLN for being such #smartees!